About Us
Shenzhen fanrui Technology Co., Ltd. was founded in 2008 in Shenzhen, China, which is a frontier city full of competition and opportunities. In the fields of electronic information and office equipment, the company provides advanced technologies and products to customers, including chemical materials, optical film materials, electronic products and air imaging, to help customers at home and abroad create new value. In particular, in the field of non-contact air imaging control, the company cooperated with strategic partners in-depth, and integrated optical, sensor, electronic, software and other technologies, and put the non-contact elevator control system into the domestic and foreign markets first. In the aspect of new coronavirus epidemic prevention, it has been recognized and praised by customers. With the further heating up of non-contact control demand, the company will actively carry out research and development work to meet the personalized needs of customers.
[message]
Social development and scientific and technological progress are changing with each passing day, bringing opportunities and challenges to everyone.
We can only persevere in the spirit of enterprise, constantly recognize new things and challenge new technologies,
Only in this way can we contribute to others, enterprises and society, and realize the value of life and corporate responsibility!
[business philosophy]
Time waits for no one and creates the future
[action guide]
Trust, cooperation, innovation and value
[company profile]
[legal person] (China) Shenzhen fanrui Technology Co., Ltd
SHENZHEN PANRICH TECHNOLOGY LIMITED
(Japan) panrich Co., Ltd
PANRICH Co.,Ltd
(Hong Kong) Hong Kong Xinming Electronic Technology Co., Ltd
HONGKONG SINM ELECTRONICS TECHNOLOGY CO.,LIMITED
[consultant] Mr. tengchuan
[partner] southern suburb science and technology
[career content]
The company through cutting-edge technology and excellent service, for social progress to make contributions.
Air imaging
Optical film industry
Chemical materials
Electronic products business
[main customers] Nippon carbide, Panasonic, itsuwa, midoriya
Epson, ryoden, Fujifilm, Yamato Kako, etc
[Cooperative Bank]
Bank of China Limited
MIZUHO
CITIBANK
【Evolution】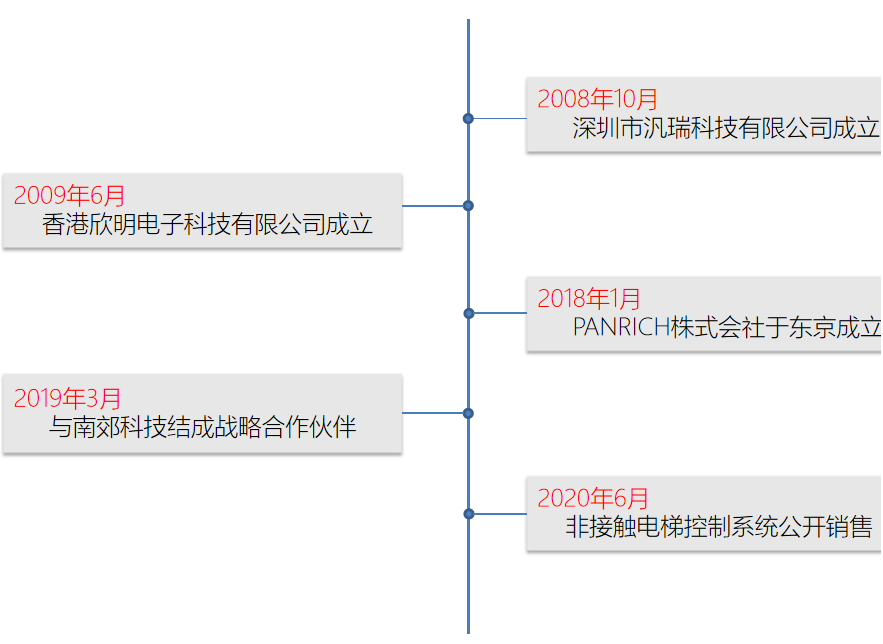 【详细地址】(中国)深圳市汎瑞科技有限公司
   SHENZHEN PANRICH TECHNOLOGY LIMITED
深圳市福田区北环大道7043号青海大厦1321房
TEL:+86-755-83909193
E-mail :
caijian@panrich.com
 (日本)PANRICH株式会社
    PANRICH Co.,Ltd
〒135-0063 東京都江東区有明3-7-26有明フロンティアビルB棟9F
TEL: +81-03-5530-8197
 
E-mail :
caijian@panrich.com
(
香港)香港欣明電子科技有限公司
  HONGKONG SINM ELECTRONICS TECHNOLOGY CO.,LIMITED 
SUITE 603 6/F HANG PONT COMMERCIAL BUILDING 31 TONKIN STREET
CHEUNG SHA WAN,KL,HONGKONG
TEL: +852-3174-
7663
 
E-mail :
caijian@panrich.com